Description
A dark metropolis built on top of a dying octopus, a cowardly tentacle trimmer dreaming of dung beetles, and a surreal adventure about everything and nothing.
History
Octopus City Blues is a story-driven adventure game. It's the tale of cowardly tentacle trimmer Kaf Kafkaryan, who lives in a city built on an octopus. Plagued by recurring nightmares, Kaf stumbles upon dark secrets as the line between dream and reality begins to blur.
With a unique pixel art aesthetic and a unique concept, Octopus City Blues blends various genres—placing emphasis on exploration, real-time daily simulation, and deep dialogue trees that encourage multiple playthroughs. Over the years, the game received a very enthusiastic response from many journalists and players around the world.
Octopus City Blues is scheduled for release on Windows, MacOS and Linux in 2023.
Features
Talk to people, make choices, manage the inventory and engage in various mini-games.
Interact with over unique 60 characters, each with their daily schedules and secrets.
Learn and spread gossip to unlock new story paths, but be careful about what you shar
Manage your stress and reputation while navigating complex dialogue trees where choices matter.
Videos
Octopus City Blues Trailer — YouTube
Logo & Icon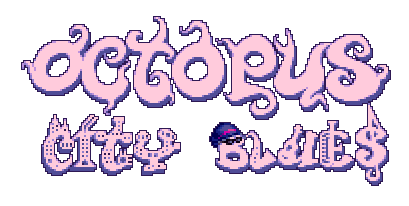 Awards & Recognition
"Best Art Direction" Dubai World Game Expo 2015
About Ghost in a Bottle
Boilerplate

Ghost in a Bottle: makers of Octopus City and Neon Empire simulation software.

More information

More information on Ghost in a Bottle, our logo & relevant media are available here.
Octopus City Blues Credits
Firas Assad

Marina Navarro Travesset

Aaron Eason

Karl Crawford

Francis Coulombe

Sabrina Cámara

finbeard
Contact
Firas Assaad